Spirax Sarco introduces Exhaust Vapor Condenser (EVC)
High efficiency, energy saving heat exchanger
Spirax Sarco Exhaust Vapor Condenser (EVC)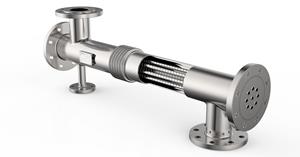 Blythewood, South Carolina, Sept. 25, 2023 (GLOBE NEWSWIRE) — Spirax Sarco, the global leader in steam system engineering and management has expanded its product line to include the new Exhaust Vapor Condenser (EVC). The Spirax Sarco EVC is a reliable innovative heat exchanger that utilizes flash steam from discharge and exhaust vent pipework to pre-heat make-up or process water, thereby recovering valuable heat energy that would otherwise be lost to atmosphere. The Spirax Sarco EVC will improve steam system efficiency for a variety of industries including food, beverage, and healthcare, and is environmentally friendly, reducing CO2 + carbon emissions.
"With a global focus on sustainability and energy efficient-operation, Spirax Sarco is pleased to offer the Exhaust Vapor Condenser (EVC), a reliable and innovative heat exchanger that is environmentally friendly and has proven to provide efficient payback within short periods of time, some applications within one year." said Chris Rossi, Spirax Sarco Product Manager.
According to Rossi, the EVC is easy to install and provides an optimized heat transfer solution when compared to other heat exchanger designs used in similar applications. As standard the construction is completely stainless steel and the tube side is all in AISI 316. The EVC is designed and manufactured in accordance with EN 13445 code and fully complies with the requirements of the Pressure Equipment Directive (PED). The EVC complies with EC1935:2004 Food Contact Materials and also complies with regulation EC2023:2006 on good manufacturing practice for materials and articles intended to come into contact with food. There are no gaskets (except for the piping connection) and no painted components. The heat-exchanging surface is of straight corrugated tubes designed for low viscosity fluids and for turbulent flow working conditions. The tube sheets are of an integral type and are supplied ready for installation.
More information on Spirax Sarco's Exhaust Vapor Condenser (EVC) is available online at www.spiraxsarco.com/us or by calling (800) 883-4411, or email at orders@spirax.com.
About Spirax Sarco, Inc.
With over 100 years of experience in the industry and more than 1,300 experts in 62 countries, Spirax Sarco is the world leader in the control and management of steam, a Natural Technology key to our sustainable future. We provide a diverse range of industrial customers with vital products, services, and engineered solutions to maximize efficiency and overcome their process challenges. Further information can be found at www.spiraxsarco.com/us
###
Attachments
CONTACT: Leah Veldhoven
Spirax Sarco, Inc
800-883-4411
leah.veldhoven@us.spiraxsarco.com